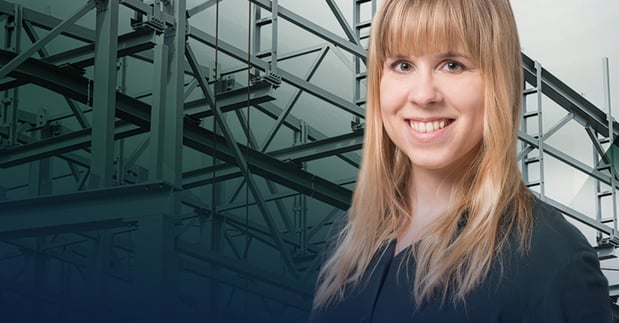 Minna Perttu joined Tikkurila in 2014 and has developed into a true expert on metal coatings for industry during her time. She has worked on devising formulas for new products to meet the changing demands of the industrial sector through project managing and service design, ensuring Tikkurila solves customer issues.
As one of our leading experts, she gives her thoughts on what has changed for metal coatings, how the process of developing a Tikkurila product works, what the future looks like for metal coatings and more.
LEED and BREAM acting as the agents of change
Minna has been part of the industrial metal coatings team for four years and has never stopped learning. Identifying what's new in the industry is tricky since there's always new information to absorb.
In recent years, Minna has noticed the growing emphasis on certifications like LEED and BREEAM and what that has meant for industrial paint products.
"Sustainability has become a core topic for everyone in the industry, and the demand for these certifications are a visible sign of that. The idea of improved sustainability may have been an appealing concept in the past, but I believe it's now on the way to being a must-have.", says Minna.
At Tikkurila, Minna has been involved in helping develop innovative products that achieve LEED and BREEAM certification whilst maintaining their durability and functionality. There is an expectation of quality in the industry, and it's vital that we continue to deliver that when we adjust our compounds to ensure they meet green building standards.
Sustainability in metal coatings has been a rising theme, and Minna believes it will continue to grow in importance. "I expect the EU and other law-making bodies to create regulations that guide the metal coatings industry toward more environmentally friendly solutions.", says Minna.
That may mean she spends more time in the lab helping Tikkurila create and develop alternatives, with waterborne metal coatings looking set to take a larger market share.
High solid metal coatings are also becoming more important in the industrial sector. They can solve customer problems by helping to reduce harmful solvent emissions. They can be also used as a single-coat system, which significantly reduces production costs.

"On a technical level, I hope in five years we are developing coatings that are even more straightforward to apply. Not only requiring fewer layers but paints that make the actual application process simpler. At Tikkurila, I believe we've already made great steps in this direction, but I think our expertise can help us innovate further.", says Minna.
The power of colours
At Tikkurila, our passion for blending and combining the right colours and developing the best and most durable solutions has lasted for more than 150 years. Tikkurila's incredible range of colours was also one of the things that attracted Minna to Tikkurila in the first place.
"We have technically advanced products that can meet all kinds of demands and certifications, but that's only part of the story. We also have excellent tinting systems. We can combine them with almost all our products so you can have basically any colour you want." praises Minna.
When working on industrial coatings, functionality and performance are vital for our customers. They have to be confident the metal coating will deliver what it promises in terms of the application process and durability once it's on. However, delivering those technical features along with vivid colours that precisely match a customer's need is a challenge I think we have mastered. For me, that's a special combination.
Developing a Tikkurila metal coating product
Even with all the knowledge and experience we have at Tikkurila, the chemistry can still be extremely complex and delivering the required product can be a challenge.
The process involves designing formulas based on our knowledge that we believe will meet a specific product's requirements. It isn't as simple as theory giving all the answers, though; "my expert technician colleagues will then mix up a paint based on that formula, and we then test it rigorously." says Minna.
At Tikkurila, we pride ourselves on the performance of our products, so every time we create a new metal coating, we have to be 100% sure it meets those same high standards. The reality is that the development process will take refinement steps as it would be unusual to land on the finished product the first time. That's why the strong collaboration between our chemists and technicians is so important.
Once we feel we've perfected it and it goes through the testing, we know that customers can rely on it to deliver Tikkurila's mark of quality.
"In one very tough case, I was helping to create a waterborne one coat DTM metal coating but getting it exactly right took many different formulas and testing. When it was finally ready, my boss asked me how I managed it, and I replied, 'I had help, but we did it.' For me, that's Tikkurila through and through; experts working together to overcome tough challenges and create great products for our customers."
Minna Perttu is one of Tikkurila's metal coatings professionals, helping create and design our range of products and services. To stay up-to-date with the latest developments from the industrial coatings team at Tikkurila, sign up for our newsletter.