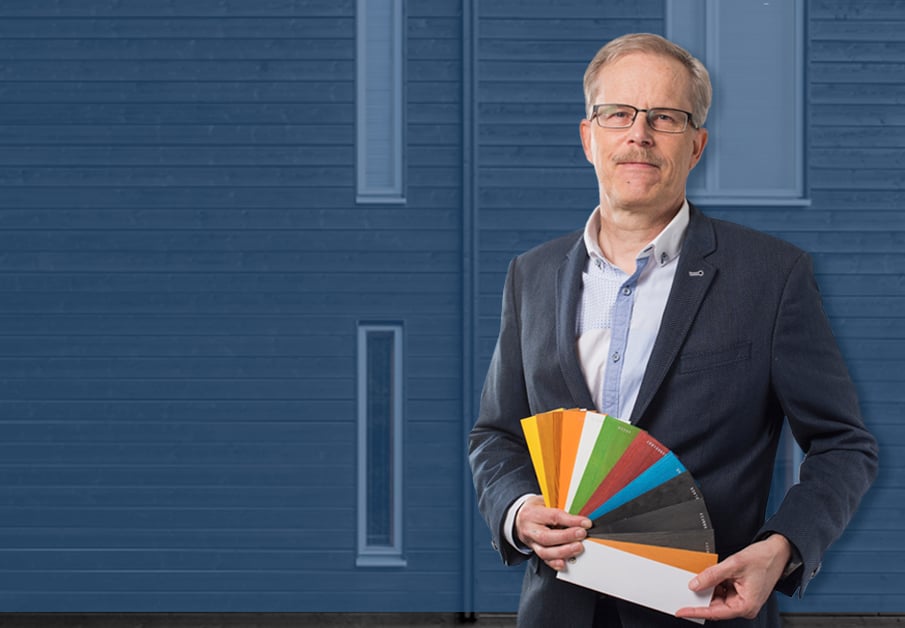 After over 25 years at Tikkurila, there aren't many people who know more about how to protect an industrial wooden surface than Arto Nummela, Group Portfolio Development Manager. Arto has been one of the central figures in the development of our bestselling Ultra Pro 30 paint from the very beginning. In this blog post he tells the story of its development – from original idea to final innovative product.

Two decades ago, paints for exterior cladding were often competing only on price. We wanted to offer our customers something better, so we committed to making a product that added value rather than cutting costs.
The journey from idea to innovation

To do this we had to innovate, starting from scratch with completely new raw materials. We talked to suppliers and did a lot of testing to find the best and most effective ingredients, then worked with our chosen supplier on paint binder creation and R&D. To ensure the very highest quality, we worked for years perfecting the Ultra Pro paint composition, then spent even more years testing it in the field.

This kind of thorough testing is why we can stand behind the claims we make 100% – we guarantee that our products are safe and that they deliver the highest-quality finish when used in real-life applications. We start with lab-based testing in QUV cabins and paint booths to investigate how the raw materials perform, but these results only tell part of the story. During the development phase we also apply our products to panels of cladding in our exterior test field to give us the big picture about real-world performance. These panels are usually south-facing for extra UV light and set at a 45-degree angle to give our products a thorough test against the rain and snow of Finland's harsh northern climate.

We also tested Ultra Pro series paint on industrial machines with customers who were interested in trialing the new product. Of course, the first question was almost always "is it cheaper?", but we explained that our target was "better, not cheaper". After application test trials, customers were quick to see the benefits that Ultra Pro series paint would bring them.
No primer, just a pristine-quality finish
One main benefit was that we'd created the system to work without a separate primer – for a flawless finish, all the customer would need to do was apply Ultra Pro 30 in two or more layers. With no need to stop to change the paint in your industrial machine, the painting process became quicker and easier, with no downtime. Ultra Pro 30 was also made to be faster drying than alternative products, making the application line more efficient. Customers could also see that the quality and durability of Ultra Pro 30 was better than competitor systems, with every layer of Ultra Pro 30 having top-coat quality, rather than starting with a lower durability alkyd-based primer. After our test trials we modified the product based on customer feedback to make it even better. From start to finish the development process took us about four years.

The final product is a bestselling waterborne coating with a guaranteed maintenance interval of 10–15 years, making it a more sustainable choice than competing alternatives that are less durable. It offers excellent protection against the weather, lengthening the lifecycle of the cladding and the building itself. Water permeability has a really important role to play here: Ultra Pro 30 forms a tight paint film to prevent water from penetrating deep into the wood, while still allowing moisture in and out. This minimises the severity of dimensional changes to the wood across the cladding lifetime, meaning less stress on the paint film and fewer cracks in the finish. What's more, because the product is waterborne the beauty of the wood can shine through from beneath the paint film.
Making the best even better
Ultra Pro series paint has been further developed since it was first produced in 2004, with new variants that make the quality of the finish even better. Alongside continuously developing the product we have also collaborated closely with customers to train them in how to get the best results from this premium-quality product. With alkyd primers there is a pressure towards more cost-effective painting which may lead to customers over-thinning the primer, but Ultra Pro 30 comes ready to use out of the can and doesn't need to be thinned – which is a benefit in itself.
The first houses to be coated in Ultra Pro series paint have now been proudly showing their colours for over 15 years with no claims against our durability guarantee – in fact, testing in Russia has shown a 160-micron coating of Ultra Pro 30 can give 25 years of durable finish. We are proud to say that Ultra Pro will be around to protect exterior walls for many years to come.
If you want to learn about Ultra Pro series paints, please don't hesitate to contact our experts.