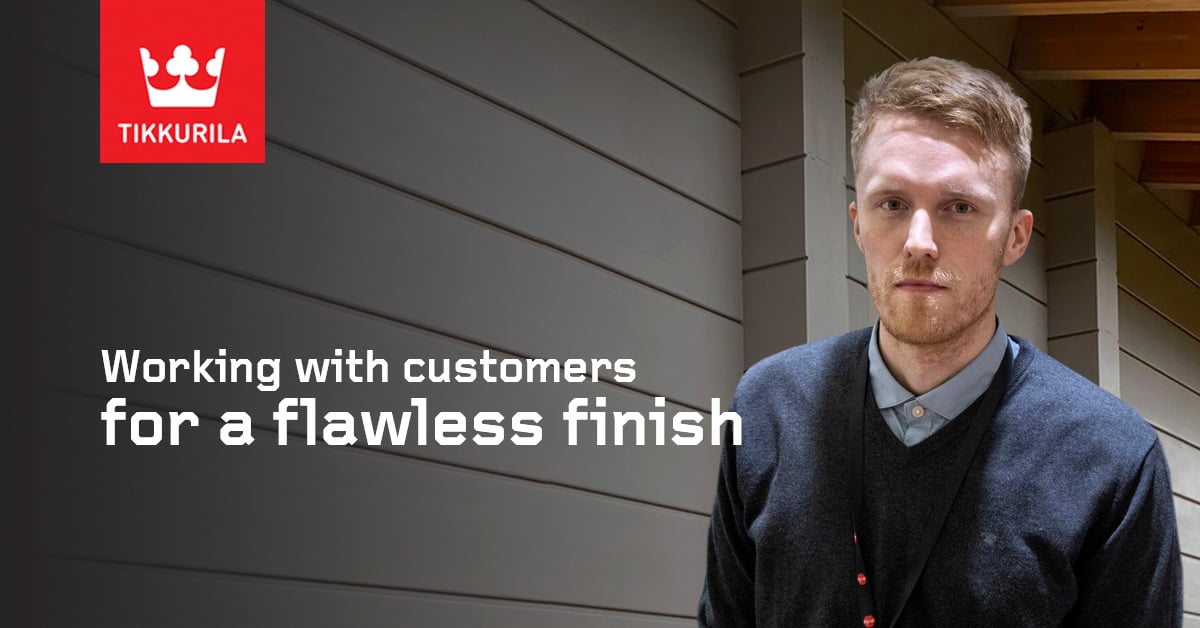 Anton Chistyakov has spent his entire working life with paints and coatings after graduating from Saint Petersburg State Institute of Technology in Russia with a degree in the chemical technology of high molecular compounds. He has been working at Tikkurila since 2018 as a Sales development and technical support manager, managing the technical sales support department as well as visiting customer sites to share the benefits of Tikkurila products and advise on their use. In this blog post he shares his insights into Ultra Pro 10 and his close work with customers.
When Ultra Pro was introduced in 2004 it was a game changer in the Russian market, offering a coating for exterior cladding that prioritized high quality over price. Not only was Ultra Pro's durability better than competing systems, it also didn't need a separate primer, making the painting process quicker and more efficient and ensuring every coat was of the same high quality.
Working with customers for a flawless finish
The popularity of Ultra Pro meant it was no surprise that customers requested for more paints to be added to the Ultra Pro family. Ultra Pro 30 was launched in 2016 with an excellent price-quality ratio, bringing a much-requested semi-matt finish to the range. Ultra Pro 10 was launched in 2020 in response to a request from one of our customers, the largest wooden house construction company in the north-western region of Russia and a manufacturer of façade board, who was really impressed with Ultra Pro 30 but wanted a deeper matt finish. The relationship we have with our customers is a very close one – we are always here to talk about their needs and requests and, as in this case, we aim to see if we can achieve them.
Of course, it wasn't just one customer who was interested: matt coatings are very popular in Russia as, unlike glossier coatings, they help to hide any defects in the protected surface and minimize any application errors. The colour of Ultra Pro's matt finish remains saturated for longer and doesn't fade, making it a good choice for painting the facades of wooden buildings and structures. Despite being a deeper matt, the dirt retention of Ultra Pro 10 does not differ significantly from Ultra Pro 30, and it can be tinted in many colours for a flawless aesthetic finish.
Independent proof of long-term protection
It's not just in product requests where we work closely with customers. We are also very supportive when customers have requested additional tests to back our claims. This is quite common in the Russian market: there are a lot of low-quality paints available so many customers want the reassurance of third-party tests from independent laboratories. For example, because Ultra Pro 10 is painted directly onto wood without a separate primer or antiseptic, some customers wanted proof that it would be effective against mould and microorganisms. On receiving this request, we asked an independent laboratory to evaluate the fungal resistance of Ultra Pro 10 and Ultra Pro 30. Based on the evaluation results, both coatings were confirmed to have fungicidal properties.
Considering the harsh extremes of the Russian climate, customers also wanted reassurance that Ultra Pro 10 has the high durability needed to be used in industrial environments across Russia. At the beginning of 2021 a third-party laboratory carried out accelerated climatic tests on three 120g/m2 layers of Ultra Pro 10 to test for compliance with the requirements of the national Russian standard GOST 9.401. Based on the test results it was confirmed that Ultra Pro 10 can be used in an open industrial atmosphere in moderately cold and cold climates, such as those found in Russia, with a predicted service life of up to 25 years. This is at the same level as similar coatings for metal surfaces.
Significant time and cost efficiency benefits
Ultra Pro 10 is a single product system with excellent adhesion to wood material, meaning there is no need for a separate primer layer. This provides time and cost savings on painting lines, especially as the paint is easy to mix and apply and doesn't need specialist staff. It is suitable for high-speed painting lines but can also be applied using brushing shaft machines, which are becoming a more popular application method due to the lower cost of the equipment. Because Ultra Pro 10 dries quickly, products can be stacked quickly after drying and cooling, adding more efficiency gains. Finally, as Ultra Pro 10 is an eco-friendly, water-borne product with low VOC emissions, there are also no additional costs associated with disposal.
With you for the long, long life of the product
I spend a lot of time at customer sites analyzing their technical requirements and helping them to select the right product or coating system, working together to make sure the solution is exactly what they need. We don't just stay in touch before and during product supply – we are here for the lifetime of the product, even helping our larger customers with marketing materials to ensure their customers understand the benefits of Ultra Pro 10 just as well as they do. This is how we believe the best business is done – working closely together to achieve optimal results.